Saturday, Nov 15, 2014
8:00 pm
Wentz Concert Hall
171 E. Chicago Ave
Naperville, IL 60540
Buy Tickets
Monday, Nov 17, 2014
7:30 pm
Symphony Center
220 S Michigan Ave.
Chicago, IL 60604
Buy Tickets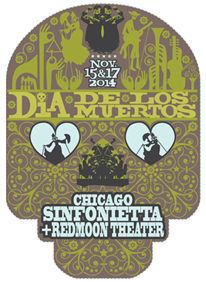 The duality of grief and joy is captured in Chicago Sinfonietta's Day of the Dead concert. The performance begins with a festive, lively piece by Spanish composer Gerónimo Giménez. Sibelius' Valse triste, meaning "sad waltz," brings a reflective mood to the hall, taking audiences into a nostalgic memory. It isn't long before Arturo Rodríguez's Mosaico Mexicano uplifts the mood, taking us into a world of folkloric sound and rhythm.
The concert continues in collaboration with Redmoon Theater, which joins the orchestra in a beautiful display of shadow puppetry. Redmoon retells the story of Manuel de Falla's El Amor Brujo by interweaving visuals of fire, love, and dance with the sounds of the orchestra. The performance comes to a close with a rollicking performance of "Danzón No.2," a piece by one of Mexico's greatest living composers – Arturo Marquez.
Join us for a complimentary tequila tasting from El Jimador! The tasting will take place during intermission at both concerts and is available at no charge to all 21+ concert attendees.
Before you head back in for the second half of the concert, toast the dearly departed with tequila from our friends at El Jimador.
Giménez La Boda de Luis Alonso
Sibelius Valse triste, op.44
Rodríguez Mosaico Mexicano
de Falla El amor brujo: Ballet Suite
Márquez Danzón No.2



Lucia Matos, guest conductor
Redmoon
Photos by Chris Ocken