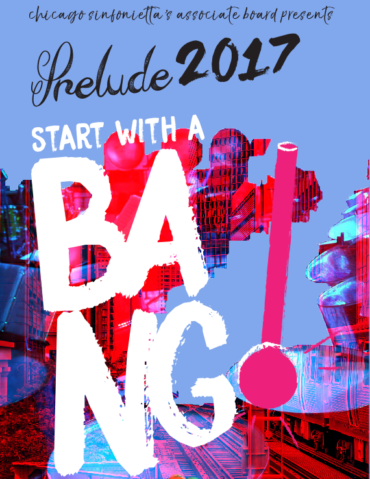 Prelude: Start with a BANG!
Monday, September 18, 2017
5:30pm
Symphony Center
220 S Michigan Ave.
Chicago, IL 60604

RAFFLE WINNER
BEA YOUNG
Auction Winners:
Soar to Seattle with Southwest | Mary Hess
Coffee + Cupcakes | Mary Hess
The Joffrey + Lyric Opera in One Night! | Olalekan Sowade
Treat Yo' Self | Lauren Huefner
Epicurean Adventures! | Eleanor Wagner
Love Supreme! | Mary Hess
Stock the Bar! | Scott Hoesman
Blackhawks Blowout! | Ian Simonson
Congratulations to all our winners! Thank you to everyone for your continued support!
---
"If you start with a bang, you won't end with a whisper" - T.S. Eliot

Chicago Sinfonietta's Associate Board hosts the annual Prelude fundraising event which, just like our concerts, is highly engaging and a little unconventional. Celebrate the start of our 30th Anniversary season with cocktails, hors d'oeuvres, and of course, our fantastic silent auction and raffle.

Inspired by this year's opening concert guest artists, the NIU Steelband, guests will be invited to make some noise with steel drum demonstrations, and other interactive activities.