CS

Arts and Diversity Reception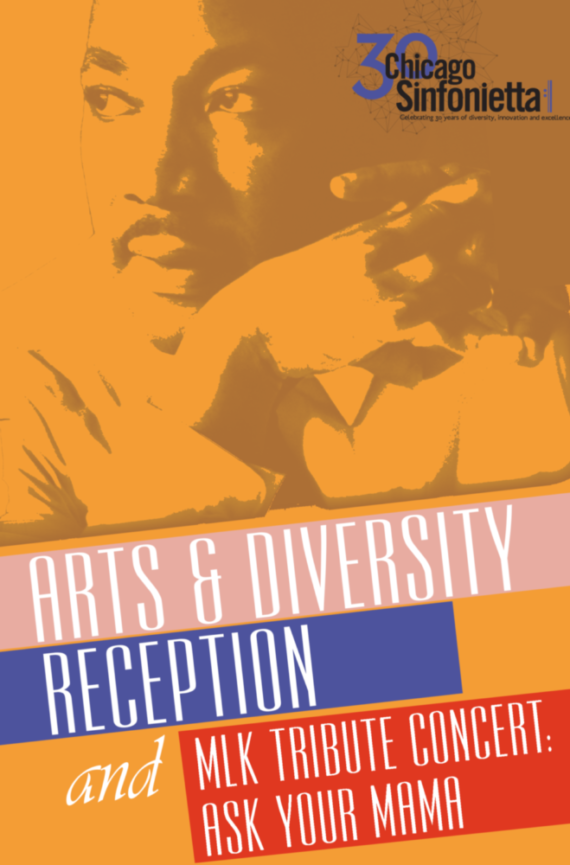 Monday, January 15, 2018
5:30PM
---
Symphony Center - Grainger Ballroom
220 S Michigan Ave,
Chicago, IL 60604
Chicago Sinfonietta invites you to an evening celebrating the life and legacy of
Dr. Martin Luther King, Jr.
Please join us for:
• Networking with fellow diversity & inclusion peers
• Drinks and hors d'oeuvres
• Mingling with guest artists
• Keynote by Dr. Helene D. Gayle, President & CEO, The Chicago Community Trust
•
MLK Tribute Concert
to follow at 7:30 PM
Reception - Complimentary
Reception + Concert - $30
INVITATION AND RSVP REQUIRED AND NON TRANSFERABLE
RSVP NOW
Extend the experience and enhance your corporate events with the unexpected addition of beautiful music from our
Project Inclusion Ensemble
celebrating diversity, innovation and inclusion!
---
Dr. Helene D. Gayle
Helene D. Gayle is President and CEO of The Chicago Community Trust, one of the nation's leading community foundations. Previously, Dr. Gayle was CEO of McKinsey Social Initiative and from 2006 to 2015, she was President and CEO of CARE USA. Dr. Gayle has also spent 20 years with the Centers for Disease Control and has worked at the Bill & Melinda Gates Foundation, directing programs on HIV/AIDS and other global health issues. Named one of Forbes' "100 Most Powerful Women," she has authored numerous articles on global and domestic public health issues, poverty alleviation, gender equality and social justice. Dr. Gayle serves on public company and non-profit boards including The Coca-Cola Company, Colgate-Palmolive Company, the Rockefeller Foundation, Brookings Institution, the Center for Strategic and International Studies, New America and the ONE Campaign. She is a member of the Council on Foreign Relations, the American Public Health Association, the National Academy of Medicine, the National Medical Association and the American Academy of Pediatrics.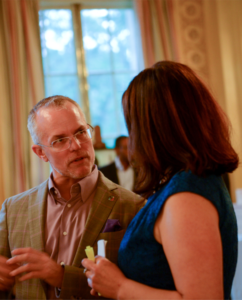 For over 10 years, Chicago Sinfonietta has hosted members of the diversity & inclusion community to celebrate our shared commitment to promoting diversity and inclusion and the way this commitment creates opportunities and shapes our world – a concept that Dr. King well understood.

Exploring different topics related to diversity and inclusion each year, guests are invited to enjoy a key note speaker while connecting and networking with other members of the diversity & inclusion community.

Chicago Sinfonietta also has the honor of presenting our current class of Project Inclusion Freeman Fellows – our one-of-a-kind program started in 2008 to provide opportunities to emerging, diverse musicians, conductors, and administrators who aspire to become professionals in the field of classical music and beyond.
In honor of Dr. King's legacy, Chicago Sinfonietta presents our annual MLK Tribute performance to bring our communities together to celebrate the life and work of MLK and recommit ourselves to what we stand for.
Dr. King was a true visionary. He understood that his work would be arduous, sometimes dangerous, and take generations to effect real change. He envisioned us walking forward, hand in hand, side by side.
His message remains vital today, perhaps now more than ever.
This year, with words penned in 1960 by Langston Hughes that still resonate as if written by a lyricist today, amplified by a cast including orchestra, opera, jazz vocals, spoken word, archival audio samples, and video, Chicago Sinfonietta is proud to present,
Ask Your Mama
- the single epic, multi-media jazz/symphonic composition that will mark our 30th anniversary MLK Tribute concert. Don't miss your chance to hear this
Grammy® award-winning masterpiece
(played live only 3 times in its history) in its full glory!
Made possible with generous support from: