CS

Arts and Diversity Reception
Monday, January 16, 2017
5:30PM
---
Symphony Center - Grainger Ballroom
220 S Michigan Ave,
Chicago, IL 60604
Please join us for:
• Networking with fellow diversity & inclusion peers
• Keynote by Dr. Walter E. Massey
• Drinks and hors d'oeuvres
• Mingling with guest artists
• MLK Tribute Concert to follow at 7:30 PM
Reception - Complimentary
Reception + Concert - $25
INVITATION AND RSVP REQUIRED AND NON TRANSFERABLE
RSVP NOW
Extend the experience and enhance your corporate events with the unexpected addition of beautiful music from our
Project Inclusion Ensemble
celebrating diversity, innovation and inclusion!
---
Dr. Walter E. Massey
Walter Massey is Chancellor of the School of the Art Institute of Chicago as of July 2016, having previously served as its President. He is also Chairman of the Giant Magellan Telescope Organization, responsible for guiding the construction of the world's largest optical telescope. Massey began his career as a physicist at leading research universities before his appointment as Director of Argonne National Laboratory and then as Director of the National Science Foundation under President George H.W. Bush. In 1995 Massey returned to Morehouse College, his alma mater, where he was President for over a decade. Massey is a Director of McDonald's and is former Chairman of Bank of America. He has also served on the boards of numerous non-profit organizations, including the Mellon Foundation, the MacArthur Foundation, and the Smithsonian Institution and has received honorary degrees from 40 universities, including Yale, Northwestern, Columbia, and Brown.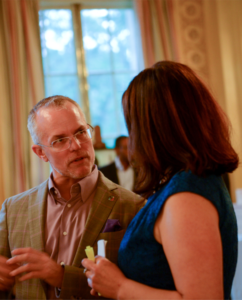 For over 10 years, Chicago Sinfonietta has hosted members of the diversity & inclusion community to celebrate our shared commitment to promoting diversity and inclusion and the way this commitment creates opportunities and shapes our world – a concept that Dr. King well understood.

Exploring different topics related to diversity and inclusion each year, guests are invited to enjoy a key note speaker while connecting and networking with other members of the diversity & inclusion community.

Chicago Sinfonietta also has the honor of presenting our current class of Project Inclusion Freeman Fellows – our one-of-a-kind program started in 2008 to provide opportunities to emerging, diverse musicians, conductors, and administrators who aspire to become professionals in the field of classical music and beyond.
In honor of Dr. King's legacy, Chicago Sinfonietta presents our annual MLK Tribute performance to bring our communities together to celebrate the life and work of MLK and recommit ourselves to what we stand for.
Dr. King was a true visionary. He understood that his work would be arduous, sometimes dangerous, and take generations to effect real change. He envisioned us walking forward, hand in hand, side by side.
His message remains vital today, perhaps now more than ever.
This year, with the help of young, diverse musicians and singers from across the city, we will stage an intergenerational dedication to those that came before us and rally behind those working to make equality and freedom for all a reality still today. Culminating in an epic performance of
Ode to Joy
from Beethoven's
Symphony No. 9.
, this evening promises to be
more than just a concert – it will be a transformational and uplifting event.
Made possible by generous support from: