The Chicago Sinfonietta has long searched the globe for diverse voices working in classical music. At the same time, we strive to bring unexpected genres to the stage in cultural exchange with the orchestral tradition. With Global Dance Party, the orchestra takes this synthesis of sound to another level when two rising young conductors, one from Brazil and the other African-American, bring their cultural heritage to the fore and a British-born DJ of Indian heritage makes the transition from the dance club to the concert hall.
Mei-Ann Chen, Music Director
Though
Mei-Ann Chen
may not be in the house for
Global Dance Party
, her fingerprints are all over the project. Her two awards from the League of American Orchestras (First Place Award for Programming of Contemporary Music and the Helen M. Thompson Award, which acknowledged Maestro Chen's impact on the Sinfonietta and potential for an important international career) certainly are reflective of the adventurous palate that the orchestra draws from when conceiving their programs.
Additionally, both of tonight's young guest conductors were selected by her and illustrate her commitment to advancing diverse voices through conducting. Finally, arranger Sam Shoup, who links DJ Rekha's electronics to the orchestral realm, is a colleague from Memphis, where Mei-Ann is Music Director of the Memphis Symphony. He worked with the Sinfonietta on the
E-motion
concert that opened the Sinfonietta's 2013-14 season as well as last season's MLK tribute.
Mei-Ann Chen's complete biography can be found
here
.
In this video clip, Mei-Ann talks about the concert, its music and its participants.
Alexandra Arrieche, conductor
It might be a facile comparison, but it's one worth noting. Like Mei-Ann Chen before her, Brazilian-born conductor
Alexandra Arrieche
is Assistant Conductor at the Baltimore Symphony Orchestra. As did Mei-Ann in 2007, Ms. Arrieche won the Taki Concordia Conducting Fellowship in 2011. And though quite young herself, she already sees providing opportunities to even younger conductors part of her mission and work, setting up conducting workshops and conducting youth orchestras in Brazil. And, finally, she is increasingly being invited to guest conduct at prestigious orchestras around the world. Perhaps most significant to this concert, though, were concerts she conducted at the Festival Villa-Lobos in São Paulo, Brazil. Each of tonight's guest conductors was asked to select compositions meaningful to their respective cultural heritages, so it's little surprise that Ms. Arrieche selected Villa-Lobos. Perhaps her own words express it best:
"Villa Lobos is a Brazilian Icon, it is impossible to talk about Brazilian music without talking about him. I got closer to his music in 2007 when I was starting my studies in conducting. I got a job as assistant conductor at the Orquestra Sinfonica da Universidade de São Paulo - my first job as a conductor!  That season we played the entire cycle of
Bachianas Brasilerias
, and all of them in the same concert. This was the first time an orchestra in Brazil did that. I got really involved in this project and… In the end I was completely in love with all his work."
Less obvious, perhaps, is the choice of Piazzolla, but there's a connection there as well.  Ms. Arrieche grew up in southern Brazil, near the Uruguayan border, where the cultures blend together. Tangos were heard all the time. Later on, in São Paulo, she became friends with a musician in the Sinfonica who, it turns out, is a Uruguayan who played with Piazzolla. The version of
Fuga y Misterio
heard at this concert was personally obtained from this friend, and
Global Dance Party
marks its U.S. premiere.
You can find Alexandra's complete biography elsewhere on the
Sinfonietta website.
  You can see her in action from the view of an orchestra chair in this video.
Joseph Young, conductor
Like both Alexandra Arrieche and Mei-Ann Chen,
Joseph Young
has spent time with the Baltimore Symphony Orchestra. And, like Ms. Arrieche, he was a BSO-Peabody Institute Conducting Fellow. Finally (and this is a brand new announcement made since Young was asked to conduct
Global Dance Party
for the Sinfonietta), beginning in June, he will be the Assistant Conductor of the Atlanta Symphony Orchestra, a post held by Mei-Ann from 2007-09.
Beyond that, though, he is increasingly regarded as one of America's best young conductors.  His recent engagements include the Colorado Symphony Orchestra, Tucson Symphony, Charleston Symphony Orchestra, Buffalo Philharmonic, Delaware Symphony Orchestra and Orquestra Sinfónica do Porto Casa da Música.  In 2013, Joseph was a semi-finalist in the Gustav Mahler International Conducting Competition.  He was most recently Resident Conductor of The Phoenix Symphony and Assistant Conductor at the Buffalo Philharmonic.
Mr. Young explains his selection of Jonathan Bailey Holland this way: "I enjoy performing contemporary music and I am always looking for new composers to get to know musically.  I recently came across Jonathan Bailey Holland's music and enjoyed the smooth yet rhythmic drive he produced and I like to think it represents my personality well." The inclusion of the Hungarian Ernö Dohnányi by an African-American conductor may seem odd, but Young's reason is compelling because of another facet of the Sinfonietta's mission: "Dohnányi is a composer we don't hear from often and I thought it was a perfect choice for this orchestra that is committed to unique experiences."
Joseph Young's biography, pictures, news and concert appearances can be found at his
own website
.   
The video is a news profile of his tenure at the Phoenix Symphony as both a conductor and a leader of the education program.
DJ Rekha, turntables and sampling
As a composer and conceptualist, DJ Rekha's contribution to Global Dance Party is detailed in the composer section of this digital guide. But there is a lot more to Rekha than that. Since establishing herself on the club scene with her inaugural event, Basement Bhangra at SOBs nightclub in 1997, Rekha has produced some of the longest-running and most successful parties in New York, including Bollywood Disco and Mutiny. Rekha also produces a weekly radio show, Bhangra and Beyond. Rekha's musical accomplishments include sound design for the Tony award-winning Broadway show Bridge and Tunnel and the off-Broadway show, Rafta Rafta. She also served as the associate producer for the NPR Radio Documentary, A Feet in Two Worlds. In 2009, Rekha was chosen by the State Department for a three-week tour of India as a cultural ambassador to the U.S. Consulate. Later that year, she was inducted into the New York City's People's Hall of Fame.
Rekha has given lectures and led workshops on Hip-Hop, politics and South Asian art for various universities and institutions, including the Smithsonian, Brooklyn Museum and Columbia University. Her work has been featured on CNN, NPR and PBS. And, finally, there's this: In 2010, she threw down at the White House, prompting President Obama to remark, "I want to thank DJ Rekha who's been spinning a little East Room Bhangra for everybody, mixing a hip-hop beat with the sounds of her heritage, making a uniquely American sound that may not have been heard in the White House before."
See DJ Rekha in action on the decks (and hear her in a great interview) in this video news segment.
Dave Sharma, percussion
Like DJ Rekha, her producing partner and percussionist
Dave Sharma
has an extensive resume.  In recent months, he's headlined the Montreal Jazz Festival and toured Europe and the States with Brooklyn's disco orchestra Escort; performed on "Late Night with David Letterman"; produced the debut record by Broadway star Josh Franklin;  held a residency at Carnegie Hall with Hindustani crossover artist Falu; developed sound design and music for MAPP-sponsored artist Samita Sinha's "Cipher"; produced and mixed the breakthrough
Turn Up the Stereo
for Juno-nominated band Delhi 2 Dublin; and written songs with the likes of Peter Wad, Jason Castro, Polina, and Arama Mara.  He is currently producing the CD which will accompany the follow-up novel to Tanuja Desi Hidier's award-winning 2003
Born Confused
.
In 2012, he was selected as part of ASCAP's prestigious Paul Cunningham Songwriters Workshop.  He has performed at some of the most iconic venues in the world, including Wembley Stadium in London, Madison Square Garden in New York and the Gaité Lyrique in Paris, with artists including Moby, Cheap Trick, Kailash Kher, and Malkit Singh. An original cast member of the A.R. Rahman/Andrew Lloyd Webber musical
Bombay Dreams
, Sharma teaches Indian percussion at the Chhandayan Center for Indian Music, and is a teaching artist via Carnegie Hall's Weill Institute.
In this brief video clip, Dave (he's in the foreground playing the dhol) and tabla player Tarun Nayar duet at the Stern Grove Music Festival in San Francisco.
Don't miss Prelude, our pre-concert discussion featuring the artists of Global Dance Party. Prelude begins approximately 1 hour prior to the concert.
Astor Piazzolla, Fuga y Misterio
In some ways,
Astor Piazzolla
is the quintessential Chicago Sinfonietta composer. Born in Argentina of Italian descent, Piazzolla lived, for quite a long time, a double life. By day, he was rigorously studying classical composition. By night, he led tango bands in the nightclubs of Buenos Aires. While studying in Paris with Nadia Boulanger, he was famously advised by the great teacher to put the music of his soul into his "serious" composition. Thus inspired, he went on to invent
Tango Nuevo
, or new tango, combining the passion of Argentine tradition and advanced compositional technique into a true expression of himself and his culture. The Sinfonietta, similarly, strives to reflect the cultural diversity of Chicago with programming that speaks to its many facets while holding true to the classical foundation.
Fuga y Misterio
is one of Piazzolla's livelier compositions. It is little wonder that Brazilian-born conductor Alexandra Arrieche chose it to open a concert with a 'dance party' theme. Piazzolla wrote it for a scene in his 1968 tango opera
María de Buenos Aires
. It was originally scored for Piazzolla's
bandoneon
and small ensemble, but José Bragato, cellist in many of Piazzolla's ensembles and a noted composer in his own right, arranged the version being played by the Sinfonietta. The
Fuga
(or "fugue") begins with a rapid solo violin line that is imitated by other instruments. The counterpoint is as clean as any fugue by Bach; but this is Piazzolla, and the strings soon transform the fugue into a tango that retains elements of the original theme.
The
Piazzolla.org website
  has an extensive amount of information about the composer and his works.
For a frankly mind-blowing version of
Fuga y Misterio
by Piazzolla and his quintet, check the video.
Heitor Villa-Lobos, Bachianas Brasileiras, No.2
As it is that
Fuga y Misterio
can be seen as Bach reflected through Buenos Aires, it is also so that Brazilian composer
Heitor Villa-Lobos
applied contrapuntal and harmonic techniques in the manner of Bach to themes of Brazilian origin in his
Bachianas Brasileiras.
Many critics initially took issue with the dissonance and modernity of his work, but like Piazzolla, who also faced severe criticism, Villa-Lobos persisted in his efforts to merge classical music and the Brazilian tradition, eventually becoming the most revered of Brazilian composers.
Villa-Lobos was born in Rio de Janeiro in 1887. With his immense output and colorful and accessible musical language, he eventually became, other than (perhaps) Antonio Carlos Jobim, the most celebrated Brazilian composer of all time. His work not only richly typifies the diverse and kaleidoscopic Brazilian scene but also, in its abundance, originality, and vitality, helped decouple Brazilian art music from European late-Romanticism. In turn, the American arranger Gil Evans, best known for his landmark projects with Miles Davis such as
Birth of the Cool
and
Sketches of Spain
, was profoundly influenced by him.
Bachianas Brasileiras
No. 2 is one of nine orchestral suites written by Villa-Lobos. Its four movements each express a different facet of Brazilian life, as reflected in each title: "The Scamp's Song", "The Song of Our Land", "Remembrance of the Bush" and "The Peasant's Little Train".
The proprietor of the
Villa-Lobos Magazine  website
is, it would seem, obsessed. He's amassed tons of videos, text, and images related to the composer through, as he puts it "Blogging Villa-Lobos since 2001."
From the looks of it, the train in this video is in fact
not
passing through Brazil, but its movements synchronize nicely with this recording of fourth movement.  
DJ Rekha / Dave Sharma (arranged by Sam Shoup), Pyar Baile and Rekha's Dance Party
The centerpiece of
Global Dance Party
features the sampled electronic sounds of dance music augmented by traditional Indian percussion and arranged for the very different sonic palate of an acoustic orchestra. 
DJ Rekha
and
Dave Sharma
have been writing partners for nearly a decade. Rekha is a British-born woman of Indian descent who is now based in New York City. She is widely credited with being among the first DJs to merge classic Bhangra (originally a Punjabi folk music) and Bollywood sounds into the language of contemporary electronic dance music. Sharma is a master of traditional Indian percussion and a composer. Together they have developed a process of collaboration that plays to both of their strengths, with Rekha focusing on the dance floor and Sharma attending to the rest.
Pyar Baile
was released in 2011 on Rekha's own Beat Bazaar Music record label.  Its dense mix retains a Bollywood flavor courtesy of the Hindi vocals of Meetu Chilana and Sharma's percussion, but strong elements of
baile funk
(a style born in the
favelas
of Rio de Janeiro) are there in the deep rhythm and additional vocals by Brazilian dance floor diva Zuzuka Poderosa. Sampled guitars and horns and, if I'm not mistaken, a bit of Afrika Bambaataa's late 70s electro-rap classic
Planet Rock
pull it all together.
DJ Rekha has been producing her Basement Bhangra dance parties in New York (and now internationally) since 1997, and the elements of
Rekha's Dance Party
will consist of some of her best mixes arranged for orchestral accompaniment in a three-movement suite.
Sam Shoup
, a Memphis based arranger comfortable with the vernacular of soul, blues and dance music (he's orchestrated concerts of Marvin Gaye, Stax Records classics and rapper Al Kapone) has collaborated with Sharma to find the right balance between electronic and acoustic textures here.
More about DJ Rekha and her music, life and Twitter feed can be found
here
.
Check out the music video of
Pyar Baile
featuring Meetu and Zuzuka (and a glimpse of Rekha sitting at the bar) and then ask yourself, "Can the Sinfonietta pull this off?" There's only one way for you to find out.
Jonathan Bailey Holland, Motor City Dance Mix
At the conclusion of last year's Chicago Sinfonietta season, the orchestra commissioned four up-and-coming composers to each write a movement for the architecturally-inspired world premiere of
ChiScape
. One of that quartet was
Jonathan Bailey Holland
, a young African-American composer whose
music
has been commissioned and performed by the Alabama, Atlanta, Baltimore, Cleveland, Dallas, Detroit, Indianapolis, Memphis, Minnesota, National, Philadelphia, San Antonio, St. Louis, and South Bend Symphony Orchestras among many others. Originally from Flint, MI, he began studying composition while a student at the famed Interlochen Arts Academy, where he received an award for his very first composition.  He continued his composition studies with Ned Rorem at the Curtis Institute of Music, where he received a Bachelor of Music degree.  He went on to receive a Ph.D. in Music from Harvard University. Currently, he is Associate Professor of Composition at the Berklee College of Music, and a founding faculty member in the Low Residency MFA in Music Composition program at Vermont College of Fine Arts.
When conductor Joseph Young was asked to select composers for his portion of the concert, his thoughts turned immediately to Holland. Both
The Party Starter
and
Motor City Dance Mix
are as recognizably American as Piazzolla is Argentine or Villa-Lobos Brazilian. Touches of 70s-era soul music and jazz are audible in both, as shimmering strings, bright horns and soaring winds ride an insistent rhythmic drive.
For more information on Holland check out
his website
.  For
lots
of Holland's music, including both of the works to be played at
Global Dance Party
and his Sinfonietta commission
Shards of Serenity
, visit his
Soundcloud page
.
The video is a live performance of
Motor City Dance Mix
by the Greater Baltimore Youth Orchestra.
Ernö Dohnányi, Symphonic Minutes, op. 36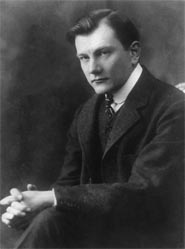 In addition to the two works by Holland, conductor Joseph Young also selected a little performed work by the Hungarian composer
Ernö Dohnányi
. Commenting on his choice, Young stated "Dohnányi is a composer we don't hear from often and I thought it was a perfect choice for this orchestra that is committed to unique experiences."
Dohnányi was something of a prodigy, finishing his formal studies in just a few years and making his professional debut as a pianist shortly afterward. A European tour quickly followed. Within two years, he published his first symphonic composition, which earned praise from no less than Brahms. As a composer, Dohnányi was influenced by Brahms as well as the fiery piano virtuosity of Liszt. He went on to write dozens of works for orchestra, stage, choral and solo piano. He was a lifelong friend of another Hungarian composer, Bela Bartok, whose works he often conducted.
Symphonic Minutes
was written in 1933, about half way into his career. His final work debuted in 1959, an astonishing 62 years after his first. Despite this prolific output, Dohnányi remains better know as a performer and champion of Hungarian music. Just as all of the composers featured at
Global Dance Party
, Dohnányi's music is informed by his culture and ethnicity, in this case Hungarian folk dance. And, in fact,
Symphonic Minutes
was written as a dance piece, the second half of a commission whose opener is the more evocatively titled
Sacred Torch
. Despite its somewhat bland title, the piece is filled with humor, charm and vivaciousness.
In this video, the
Symphonic Minutes
comes home to Budapest is a performance by the Pannon Philharmonic.  
Research and copywriting by Don Macica.

Don is a marketing consultant to the performing arts community and a contributing writer to several online publications including Chicagomusic.org and Arteyvidachicago.com. When not traveling, he lives a stone's throw from Lake Michigan in Chicago's Rogers Park neighborhood. He is the author of Border Radio, a blog about music, migration and cultural exchange.