Digital Guide to Dr. Martin Luther King, Jr. Tribute Concert
It has been nearly half a century since Dr. Martin Luther King, Jr. was assassinated in Memphis. And there can be no question that while his period of activism lasted a mere 13 years, its impact remains profound, still pushing America toward new possibilities. Yet, resistance remains. Deeply entrenched patterns of inequality continue. The Chicago Sinfonietta celebrates his birthday this year by remembering his faith and the strength of his determination. We still believe that, someday, we shall overcome and hope this concert inspires all of us to follow Dr. King's example through our own personal commitments to activism.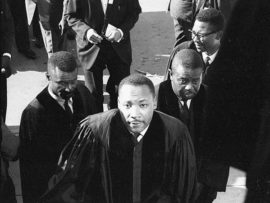 Walk through history with MLK
Pre-concert and during intermission, audience members will have a chance to view rarely seen images of Dr. Martin Luther King, Jr. courtesy of the Chicago History Museum. Also, keep your eyes peeled for a special concert ticket treasure hunt at the museum in the days leading up to the concert. Clues will be posted on social media and in the museum itself - happy hunting!

Thank you to our exhibition sponsors:

#iamforpeace
We can think of no better way to honor Dr. King's work than to remind everyone joining us for this celebration that meaningful change only takes place when we take responsibility AND take action. The Sinfonietta is proud to invite the students of Perspectives Charter School to join us and help all of us in making a personal commitment to peace. Like Dr. King, Dr. Paul Freeman and the many activists in generations before them, these students exemplify leadership and our individual obligations to be change makers within our community.

Join us in Grainger Hall to commit to peace in the following ways:
1. Participate in a peace circle.
2. Share the ways you create change in your community in our #iamforpeace photobooth
3. Sign up for Perspectives' annual summer rally!
4. Participate tonight in our concert-ending peace march out to the lobby!
Research and copywriting by Don Macica.
Don is the founder of Home Base Arts Marketing Services and a contributing writer to several online publications including Agúzate and Arte y Vida Chicago. When not traveling, he lives a stone's throw from Lake Michigan in Chicago's Rogers Park neighborhood. He is the author of Border Radio, a blog about music, migration and cultural exchange.