Celebrating our history. Ensuring our future.
On behalf of our board of directors, staff, volunteers, and musicians, we are incredibly excited to share the news about the John D. and Catherine T. MacArthur Foundation's selection of Chicago Sinfonietta as a recipient of their prestigious MacArthur Award for Creative and Effective Institutions (MACEI). According to the foundation's guidelines, "this award recognizes exceptional organizations that are key contributors" in the fields that the foundation supports. This is the "genius award" for non-profit organizations and we are very proud to be the recipient of this recognition and financial support.

The funds will be used to establish the Sinfonietta's first-ever cash reserve and quasi-endowment that will enable the organization to make more strategic-driven decisions. All too often, organizations of our size face difficult choices due to occasional cash flow challenges and lack of operating capital. The things that make us different from every other orchestra, our commitment to innovative programming and diversity & inclusion, require additional resources. This award ensures we can continue to lead the way for our industry through excellence in these areas.

The MACEI award provides the Sinfonietta with the building blocks needed to create a truly sound financial base that will enable us to address these issues and serve our community more effectively than ever before. We thank the foundation for their belief and investment in our work and invite you, our audience, donors, volunteers, and others to join the MacArthur Foundation in ensuring that the country's most diverse and innovative orchestra continues to provide opportunities for underserved and underrepresented individuals and communities, educate the next generation of musicians and concertgoers, and present stunning, one-of-a-kind symphonic experiences for all to enjoy.

Musically yours,

Maurice Smith
Chair, Board of Directors

Mei-Ann Chen
Music Director

Jim Hirsch
Executive Director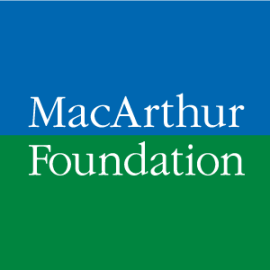 Each year, MacArthur makes grants to exceptional organizations that are key contributors to fields that are core to the Foundation's work. These organizations conduct important work, generate provocative ideas, reframe the debate, and provide new ways of looking at persistent problems. The Foundation makes a significant investment in these key organizations so as to advance progress on some of society's most important problems, and also to help position these organizations for long-term growth and impact.
"These superbly imaginative organizations exemplify Chicago's thriving arts and culture community, which is vibrant and economically vital to the region. Support for these diverse and leading organizations reflects our enduring commitment to Chicago and to its cultural life that enriches us all."
- Julia Stasch,
MacArthur President
Learn more on the MacArthur website.
CS

See what sets us apart
OUR MISSION
Chicago Sinfonietta is a professional orchestra dedicated to modeling and promoting diversity, inclusion, and both racial and cultural equity in the arts through the universal language of symphonic music.

Our core values are built around being bold and daring in all aspects of our work, providing a source of connectivity through music, and ensuring and inspiring a continued investment in diversity and inclusion in classical music.
---
Learn More
Innovative Programming
Get to know our current and past programming by visiting our
2015/16 Season page
or browsing our
Digital Guide Archive
. Plus, stay tuned for the announcement of our 2016/17 season coming soon!
Learn More
Education & Mentoring
From the more than 1,500 public school students we serve each year to our field-leading
Project Inclusion Fellowship Program
, we demonstrate our commitment to nurturing and to promoting diversity and inclusion in classical music.
Learn More
Audience Engagement
Classical repertoire, concert themes, and the symphony experience itself is turned upside down and reinvented through our unique pre-concert and intermission programming and
community events
.
Learn More
Commitment to Diversity and Inclusion
Our commitment to diversity and inclusion in classical music and the arts is seen at every level of our organization from our Board of Directors to our musicians and our audience.