---
Chicago Sinfonietta's 30th anniversary season is making a statement: Women Rule.
---

Project W is Chicago Sinfonietta's year-long initiative to highlight contemporary, diverse, women composers through four commissioned works by Clarice Assad, Reena Esmail, Jennifer Higdon, and Jessie Montgomery and the recording of the orchestra's 16th album.
---
Innovation, imagination, passion and dynamism are the hallmarks of conductor Mei-Ann Chen. Music Director of the 2016 MacArthur Award-winning Chicago Sinfonietta, she is acclaimed for infusing the orchestra with energy, enthusiasm and high-level music-making, and galvanizing audiences and communities alike. In December 2015, Musical America, the bible of the performing arts industry, named Mei-Ann Chen one of its 2015 Top 30 Influencers. A sought-after guest conductor, Ms. Chen's reputation as a compelling communicator has resulted in growing popularity with orchestras both nationally and internationally.
---
Tal Samuel is one of two Project Inclusion conducting fellows for the CS 2017/18 season. Tal along with alumni Kalena Bovell and Deanna Tham are among the many talented women poised to move the needle when it comes to classical music leadership!
---

This gender representation gap is not for lack of talented composers and great music. All three finalists (and needless to say, winner Du Yun) for this year's Pulitzer Prize in Music were women. Jennifer Higdon continues to be one of America's most acclaimed and most frequently performed living composers (and yes, she is also a Pulitzer Prize winner.) Women composers are increasingly winning residencies and recognition across the nation.
---
This year's Project Inclusion Musician Freeman Fellows cohort is also all women.
---
---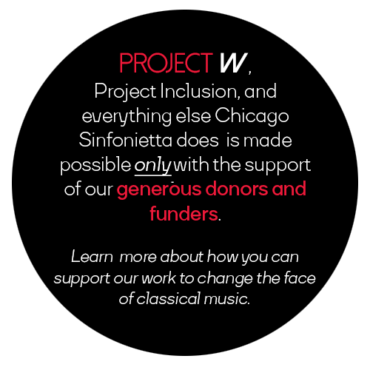 In addition to the works created, performed, and recorded as part of Project W, Chicago Sinfonietta will also present the Midwest debut of Laura Karpman's Ask Your Mama as the singular work for the orchestra's 30th anniversary Martin Luther King Jr. Tribute concert, their signature concert each season. In the spring, the Sinfonietta will also present Hear Me Roar, a concert entirely composer by women including Florence Price's Dances in the Canebrakes (which the Sinfonietta will also record), Czech composer Dora Pejačević's Symphony in F sharp minor and Mary Kouyoumdjian's Become Who I Am.